95% of Vietnamese buy goods on Amazon, but only 5% take their goods and bring them here to sell
According to Mr. Dat, many Vietnamese now lose a lot of money and time just waiting for an item ordered from the US to be delivered. Meanwhile, a lot of "made in Vietnam" products that are internationally worthy are still struggling at home.
In 2006, Amazon launched a service that allowed sellers on the site to use Amazon's network of warehouses to store goods. With the application of the Fulfillment by Amazon program, goods reach buyers in the United States and around the world or vice versa in less than a week. This makes Amazon the world's largest B2C goods trading channel
"However, in Vietnam, not everyone knows. And it seems that the language barrier as well as the confusion before the trading procedures makes buying and selling through this website still a difficult problem." Mr. Dat said.
One thing is quite special, while Vietnamese people often order technology and fashion products on Amazon, handicrafts, traditional, health care and beauty products from nature or machine products. Hooks with special uses created by Vietnamese intelligence are the products that are preferred by customers on this system.
Currently, there are about 100 types of Vietnamese products sold on Amazon through Fado. From here it can be seen that the potential of Vietnam is huge, while it is being left open right at home.
However, according to a survey on this trading website, 95% is the import direction while the export direction is still very difficult. The reason is that Vietnamese products have not been properly invested.
"Amazon.com is a B2C model (transactions between businesses and customers), so in order to sell goods on this system, in addition to good products, qualified to be imported into the US, manufacturers must have a good understanding of American culture. , preferences, American consumer behavior. To invest in the right brand and product image. And this is completely we can do," Mr. Dat said.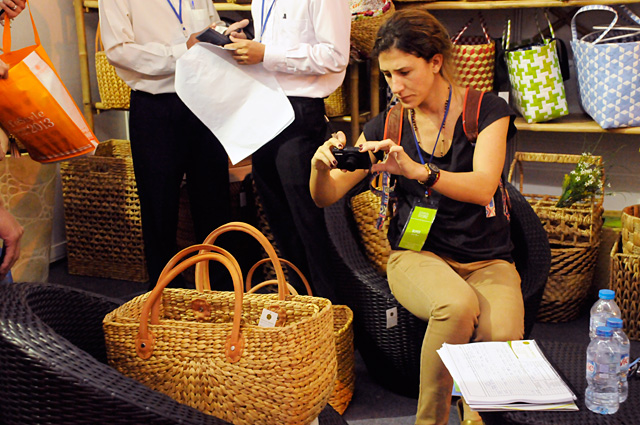 Foreign customers love traditional Vietnamese products. Illustration. (Source: Internet).
Foreign customers love traditional Vietnamese products. Illustration. (Source: Internet).
Why?
Mr. Nguyen Hong Minh, owner of the Bac Ninh bamboo and rattan handicraft brand, said that he had participated in many fairs abroad, and realized that the potential and opportunity to export to the US was great. Because foreign customers are very interested and they buy a lot of his products at fairs.
However, when returning to Vietnam, how to bring our products to these markets is an arduous path because it has too many procedures as well as taxes, fees, and Logistics.
Disagreeing with the above opinion, Mr. Nguyen Thanh Tong – Director of An Thai Son Co., Ltd., specializing in trading hammock machines in Vietnam, said that bringing Vietnamese products to the world is not difficult. The only difficulty is that the quality of Vietnamese products has not yet reached American standards.
Mr. Tong said that his company's products are currently for sale on Amazon.com and are very well received by the US market. Browsing through Amazon, we also see many Vietnamese products are available here.
Currently, in addition to small websites, forums, and personal Fanpages that provide this service in the form of sending links and quotes to order for them, the borderless business model – linking with Amazon like Fado is considered an arm. extension of Amazon.com in Vietnam market.
Accordingly, users can buy and sell on Amazon in a completely proactive manner. This unit will be a trade bridge and protect the interests of buyers and sellers on Amazon from Vietnam. Customers will be listed by the company with all the costs of buying and selling before the transaction.
The payment, delivery, tax obligations, completion of the return or refund procedures will be responsible for the 3rd party. Therefore, the manufacturer will not have to bear the costs and inconvenience in cross-border trade. Therefore, the biggest bottleneck lies in the creative and product development stages of Vietnamese manufacturers.
Hong Minh